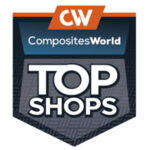 GSE Dynamics is named CompositeWorld's 2022 Top Shop
Since its inaugural launch in 2019, CompositesWorld, in cooperation with Gardner Intelligence, continues to grow the CW Top Shops benchmarking survey and recognition program. Each year, composites fabricators of all sizes, locations and industries are invited to participate by taking the Top Shops benchmarking survey, which collects data on metrics including scrap rate, order lead time, capacity utilization, sales per employee, supply chain practices, certifications and more.
The highest-performing facilities from the 2022 CW Top Shops benchmarking survey share insights about business growth, overcoming labor shortages, sustainability best practices and more. 
Read the full article here.